JetBlue Airways Corporation is commonly referred as Jetblue. It is the 5th largest airlines in the United States. It is famous for its low-fare air travel among customers. JetBlue is an equal opportunity employer. Not only flight attendants, there is a lot of career opportunities available in JetBlue.
Fast Facts about JetBlue Airways
Founded: August 1998.
Headquarters: Brewster Building, Long Island City, New York, United States.
Company Slogan: You above all
Founder: David Neeleman
President and CEO: Robin Hayes
Chairman: Joel Peterson
Crew Members: 19k+
Daily Flights: 925
Customers Serving: 35 Million Annually
How to Become a JetBlue Flight Attendant?
Job Title: Jetblue Flight Attendant.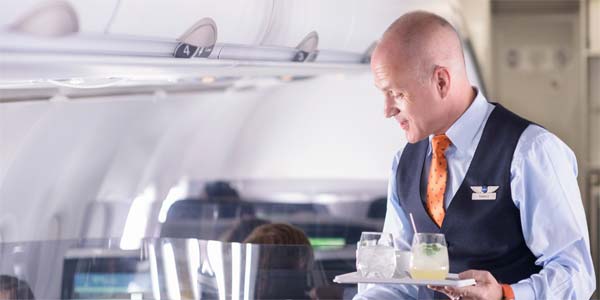 1. Jetblue Airways Flight Attendant – Interview Process
The Jetblue flight attendant interview is a 3 step process. An online test followed by phone interview and then face to face interview along with documents verification.
Go through the job qualification and requirements.
Be sure that you meet the minimum qualifications of the flight attendants.
Submit your online application.
Then complete a 20-minute online assessment test.
Next, there is a video interview.
You may be selected for a brief video interview.
Followed by a group interview and Personal Interview.
If selected, you must pass a background screening, drug test, etc.
Once selected, you are scheduled to attend training at JetBlue University in Orlando!
Just go through this link to apply for Jetblue Flight Attendant job easily. Just go through this link to know about the Jetblue Flight Attendant Interview Questions.
2. Qualifications
Here are the complete job qualifications and eligibility criteria for Jetblue flight attendant job.
Education is same as like other airlines in the united states, a High School Diploma or General Education Development (GED) Diploma
Exhibit proficiency in reading, writing and speaking English.
Age should be at least 20 years old.
3. Basic Requirements
You must know the basic requirements for the Jetblue flight attendant job before the hiring process. So that you can approach the flight attendant interview confidently.
A Workable knowledge of basic computer skills and electronic tablet devices are necessary.
You should ready to occasional overnight travel (30%)
Able to work independently as well as a team to provide a high-class customer service.
Should have a valid passport or equivalent travel documents.
Should have a valid work permit to work anywhere in the United States.
Must be able to follow JetBlue Inflight Crewmember Uniform Standards
As usual, you have to pass a 10-year background check.
Visible tattoos not allowed.
Must pass a pre-employment drug test too.
Able to read and comprehend guidance as found in JetBlue manuals
Successfully complete JetBlue Airways Inflight Training Program and Annual Continuous Education Programs.
Able to work variable schedules such as weekends, evenings, holidays, reserve duty, and last minute drafting.
4. Physical requirements
As like basic requirements, physical requirements are also a must know criteria. If you are able to do these physical work, then you are completely fit for this Jetblue flight attendant job.
Must able to walk comfortably and stand for a long time.
Able to fit quickly through the over wing exit, and sit in the Flight Attendant jumpseat without any modification.
Able to lift up to 50 pounds from the ground to above the shoulders
The eye test is also important at JetBlue. Vision corrected to 20/20.
Able to reach 6'3" feet without shoes
5. Must relocate to anyone of the below US base locations
Once selected, you must be ready to relocate to one of the below base locations. The Jetblue will provide you training at the base station for some weeks to make you a successful Jetblue flight attendant.
BOS (Boston)
FLL (Fort Lauderdale)
JFK (New York)
LGB (Long Beach)
MCO (Orlando)
6. Salary
Jetblue provides a highly payable salary in the industry. The salary may vary with the hours of work and the experience.
Job Pay: $25.05 per hour
7. Employee Benefits
Working as Jetblue Airways Flight Attendant is one of the good experiences with a lot of employee benefits.
Unlimited free travel with family or friends
Discount travel on other airlines, hotels, cars, etc.
Various Medical benefits including dental, vision, etc.
Flexible working hours.
Health and Life insurance
Short-term and Long-term disability insurance
401(k) plan
Self-directed accounts (SDA)
Profit sharing
Employee stock purchase plan
Voluntary discount programs
8. How to Apply for Jetblue Airways Flight Attendant Jobs?
You have to upload your Resume at their portal (Maximum size: 5 MB)
You can also copy and paste your resume in a text form.
Just go through this link to apply for Jetblue Flight Attendant job easily. Just go through this link to know about the Jetblue Flight Attendant Interview Questions.