Day by day southwest airlines generates more revenue due to its rapid increase in passengers. This happened only by the first class customer service provided by them. So they expect customer oriented flight attendants. To become a southwest airlines flight attendant is easy if you know the interview process and how to crack it.
Careers at southwest airlines are one of the prestigious jobs in this industry. To become a southwest airlines flight attendant is easy if you know the interview process and how to crack it.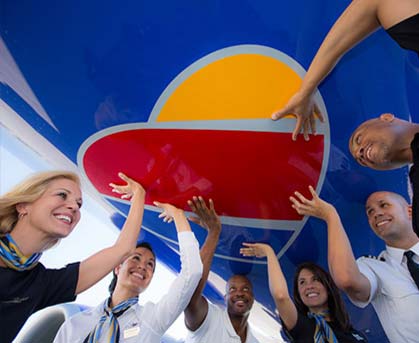 Fast Facts About Southwest Airlines
Just have a look at the short glance about the Southwest airlines. This will be useful for your interview.
Founded: March 15, 1967
Founders: Rollin King andHerb Kelleher
Chairman of the Board, CEO and President: Gary Kelly
Headquarters: Dallas, Texas
Employees: 49,000 Employees
Customers: Serving 100 million Customers annually
Daily Departures: 3,900 flights a day
Job Facts: Totally 371,202 resumes received and hired 6,370 new Employees in the year 2015.
How to Become a Flight Attendant at Southwest?
Job Title: Southwest Airlines Flight Attendant
1. Southwest Flight Attendant Interview Process
Submit your resume via online.
Then next round is a telephonic interview.
Face to Face interview at the Southwest Head Quarters.
Then fingerprint, drug test, papers checking, etc.
Finally, you have to attend the training at Southwest to become a flight attendant!
Just go through this link to apply for Southwest Flight Attendant job easily.
Just go through this link to know about the Southwest Flight Attendant Interview Questions.
2. Job Description
Southwest flight attendant's job description is more or less similar to the other airlines. They include,
Make the passengers feel safe and have a good travel experience.
Serve snacks and beverages to passengers.
Cabin preparation onboard the aircraft.
Like other airlines, southwest also wants a constant smiling face.
Have to provide creative announcements.
First class customer service is essential.
3. Qualifications
Here are the complete job qualifications and eligibility criteria for Southwest airlines flight attendant job. Becoming a flight attendant at southwest airlines is possible only if you meet the below eligibility criteria.
Age: At least 18 years of age
Education: High school diploma, GED (or equivalent)
Have proper authorization to work in line with the Immigration Reform Act.
Must be able to communicate effectively with Customers.
Must possess strong organizational skills.
Should have a valid passport.
Ready to travel any places where Southwest Airlines has its operation.
4. Requirements
You must know the basic requirements for the southwest flight attendant job before the hiring process. So that you can face the flight attendant interview confidently.
If you are able to do these physical work, then you are completely fit for this flight attendant job.
Flight attendant role requires some physical actions such as Walking, Bending, Reaching and light lifting.
Pushing and pulling carts weighing in excess of 250 pounds.
Can able to lift 50 pounds
Speaking and standing for a longer time period.
Have to cope up with the continuous traveling schedules and climatic conditions.
Check the complete job requirements here!
5. Southwest Airlines Flight Attendant – Training
Southwest Airlines itself will provide you flight attendant training after you got selected. So there is no need to get any pre-training.
You have to attend probably 6 weeks of training in their headquarters (Most probably at Dallas). After that, you have to move immediately to the city to which you are assigned as a base.
6. Must be ready to move to any of the below Base Locations
Once selected, you must be ready to relocate to one of the below base locations of southwest Airlines. They will provide you training at the base station for some weeks to make you a successful southwest airlines flight attendant.
Atlanta
Baltimore
Chicago
Dallas
Denver
Houston
Las Vegas
Oakland
Orlando
Phoenix
7. What is the Application fees?
Free! Yes, there is no application free to attend interviews in southwest airlines.
8. Southwest Airlines Flight Attendant – Salary
Salary of the southwest Airlines flight attendant is excellent. The salary may vary with the hours of work and the experience.
Job Pay: $36.10 per hour  (Vary based on Experience)
9. Employee Benefits
Working as Southwest Airlines Flight Attendant is one of the good experiences with a lot of employee benefits.
You, spouses, children, and parents can fly freely in southwest airlines for free.
Discounted, space-available travel also available.
You may also avail discounts on hotels, theme parks, and rental car companies.
401(k) matching funds.
You can buy shares of Southwest stock at a 10% discount.
Company revenue sharing
Huge range of medical benefits and health insurances.
Free Learning facility.
Job and personality training.
A good number of vacation period.
Flexible Work Hours
Southwest airlines provide flexible working hours for the flight attendants. Flight attendants can adjust schedules according to the guidelines of the collective bargaining agreement.
Equal Opportunity Employer
Qualified applicants will not be differentiated against on basis of, veteran status, sexual orientation, gender, disability, or other legally protected status.
 For the Applicants with Disabilities and disabled veterans , southwest provides accommodation. You can e-mail with "Accommodation Request" as the subject line or 855-245-9976 to avail such facility.
How to apply for the job?
You have to upload a Resume (Maximum size: 5 MB)
You can also copy and paste your resume in a text form. (Minimum characters: 100)
Just go through this link to apply!
You can also apply by the southwest career page.
Note: If you found any difficulty in applying for flight attendant job, feel free to contact the official mail swapeople@wnco.com with error screen shots. They will assist you within two business days.
How to check your Application status?
Login to the southwest Flight Attendant job portal. Here you can check your application status. 
Received submission is confirmation: This means you have just now submitted the application and your application is not taken for review. Please wait for some time.
Under review: This means they started the review process and they will contact you by phone or email.
Southwest airlines primarily contact you via e-mail. So check your emails regularly. Sometimes the emails may be marked as spam. So check spams too!
Resumes are kept on file with Southwest Airlines for up to 6 months. If you do not receive a follow-up call during that time, you need to repeat the steps for submitting a resume.
Best of luck!